On Sale
Watermelon Basil
FLIGHT SERIES • LIMITED RELEASE
WATERMELON BASIL + SEA SALT
This culinary inspired combo with a dash of sea salt brings together two of summer's most delicious flavors that tastes like it's fresh from the garden. So get outside, bath in the light, share with a friend and savor this refreshing goodness.
85 CALORIES • 4.5% ABV 
Must be 21+ to order. Must be home at time of delivery and provide government issued ID with proof of age. Currently shipping to California, New Hampshire Vermont, Oregon, Nevada, Montana, North Dakota, & Washington D.C.
Customer Reviews
Filter Reviews:
flavors
Flying Embers
Embers
Watermelon Basil
Sea Salt
life
scale
special edition
weeknights
everything
Abbey G.

United States
08/13/2020
Best drink ever!
Absolutely obsessed with Flying Embers- everything! I have a subscription of their classic flavors, but the Cucumber Juniper is my all time favorite- so far! I love Flying Embers, because they continue to innovate and make new delicious flavors while remaining true to creating a feel good, taste good, sugar free beverage! Keep 'em coming, please!
DM
Deanna M.

United States
08/13/2020
Two thumbs up for Watermelon Basil.
I love flying embers, my favorite standard flavor being Grapefruit, then Lemon. I buy these because they are low alcohol and session-able, with the added adaptogens tipping the scale to the perfect boozy booch. I love the flavors and feel good about drinking these even on weeknights. Well, the special edition did not disappoint. I went straight for the Watermelon Basil, and soon after wished I had ordered more.... with the Sea Salt = AMAZING!!! Thank you for crafting these life supporting beverages!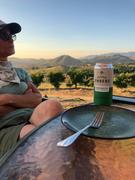 07/17/2020
My favorite booch ever
This is my favorite flavor of all time! I love all flying embers but this flavor is to die for. I really wish it wasn't a limited release. Please make it permanent!!
Capriana F.

United States
08/19/2020
Good
I am not a fan of watermelon flavored stuff but this was actually really good!
IRISA C.

United States
08/13/2020
Refreshing & good for bbq
This flavor was delicious, refreshing, & paired perfectly with the summer BBQ