On Sale
Black Cherry 7.2%
Fresh dark cherry flavors, finishes clean with a bright twist of lime spritz. Brewed with Live Probiotics and our Adaptogen Root Blend of Ginger and Turmeric.
7.2% ABV | 120 CAL | 12 FL OZ
All of our flavors are: USDA Organic • Live Probiotic • 0 Sugar • 0 Carbs • Keto Friendly • Gluten-Free • Vegan • and are Brewed with an Adaptogen Root Blend. 
Must be 21+ to order. Must be home at time of delivery and provide government issued ID with proof of age. Currently shipping to California, Oregon, Vermont, Nevada, Montana, North Dakota, New Hampshire, Nebraska, Virginia & Washington D.C.
Customer Reviews
Filter Reviews:
kombucha
Embers
alcohol
flavor
taste
Flying Embers
black cherry
stuff
drink
adaptogens
Rosa G.

United States
Shanti.K

United States
02/03/2021
In love with this Hard Kombucha
I got a 4 pack of these at Whole Foods for $9.99 this past weekend as I just started on Low Carb journey to get in shape. Also, our family loves Kombucha and I thought what better way of enjoying it with 0carbs, 0sugars and 7.2% alcohol and I fell in love with this. My husband and I have this little hobby of visiting various breweries in Richmond, VA and wherever we travel and this tasted like some of the sours I had at Vasen Brewery in Scotts Addition and I love sours. I saw this ad for Flying Embers and subscribed for the coupons a while ago. But when I saw these Whole Foods, I was ecstatic, sure enough the taste didn't disappoint me either. I can't wait to try your Mango, Guava and other flavors that are 8.5% :-) as I don't drink anything under 6% ABV. Thanks Flying Embers for providing this experience to us guilt free. Shanti & Raj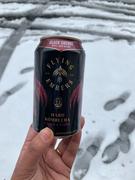 Jessica H.

United States
12/11/2020
hello I love you
Sorry not sorry Black Cherry Flying Embers is theeeee best bev. Great taste! Adaptogens!! 0g total sugar & hi vegan. XO!
Kira R.

United States
10/11/2020
Fan Flippen Tastic
I just tried this from a local corner store in Jersey City. It was so smooth and tasted epic. I'm usually a hard seltzer or straight tequila drinker, when I choose to Indulge. This was such a treat to try. They are already out of stock at the corner liquor mart and I can't wait for more! Truly a delightful surprise.
Jennifer c.

United States
08/13/2020
Excellent!
Cheap/lower quality alcohol makes me drink too much because it doesn't make my body feel good and I overdrink to compensate. This stuff is great and I only need 1-3 beers to feel chillaxed. I sooo love the adaptogens and probiotics in this hard kombucha, as an herbalist and health nut! Flying embers for the win! I just subscribed for regular orders :)