On Sale
Pineapple Chili 6.8%
Juicy pineapple with a hint of ginger and a subtle refreshing, chili finish. Brewed with Live Probiotics and our Adaptogen Root Blend of Ginger and Turmeric.

6.8% ABV | 120 CAL | 12 FL OZ
All of our flavors are: USDA Organic • Live Probiotic • 0 Sugar • 0 Carbs • Keto Friendly • Gluten-Free • Vegan • and are Brewed with an Adaptogen Root Blend. 
Must be 21+ to order. Must be home at time of delivery and provide government issued ID with proof of age. Currently shipping in California, Montana, New Hampshire, Nevada, North Dakota, Nebraska, Oregon, Ohio, Vermont, Virginia & Washington D.C.
Customer Reviews
Filter Reviews:
flavor
Pineapple Chili
beverage
kombucha
taste
kick
carbs
sugar
drink
friends
Tara

United States
12/26/2020
Finally!! A chili flavor that delivers!!
The Pineapple Chili Kombucha is amazing! I'm always searching for chili flavor and am usually let down considerably from the lack of heat. This brew is delicious! Flavorful with a nice kick of heat! Well done! Can't wait to try the seltzer :)
Spencer H.

United States
10/21/2020
A new alternative
From the moment I open the package I could tell this was quality. I have been given A sneak peek of the flavors and therefore had a good idea of the specific varieties that I was about to indulge in. I cannot say enough about the taste, the powerful pallet of flavors jumping on my tongue and the experience of summer in my mouth. The simple fact that I am doing something healthy for my body at the same time feeling so good and frisky just brings joy to my life. Thank you fFlying Embers for helping us all feel better about our experience with an Alcohol Beverage. The simple fact that you were donating a majority of your proceeds to fire evacuees is just awesome! I'm a fan for life!
Sheryl W.

United States
L E.

United States
08/17/2020
Still convinced this precious friend is too good to be true!
I'm your biggest fan. Thank you SO much for making this drink. Having gained the COVID-19, if you know what I mean, in the first couple months of this quarantine, my husband and I went on Keto, and these precious gems have been life savers. I'm honestly still not convinced they're 0 carbs and 0 sugars!! They're too good!! Thank you so much for making these. I tell everyone I know about them and will continue to do so!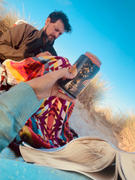 Jaime L.

United States