On Sale
High ABV Heaven - 36pk Summer Special

~ HIGH ABV HEAVEN ~
12 Pack of 16oz ~ MANGO COCONUT ~ 7.0%
24 Pack of 12oz ~ HIGH ABV FLAVORS ~ 6.8-7.2%
~ Vacation-in-a-Box ~
12 x Mango Coconut (16oz) | 7.0% ABV
8 x Pineapple Chili (12oz)

 

| 6.8% ABV 
8 x Black Cherry (12oz)

 

7.2 % ABV 
8 x Ginger (12oz)

 

| 7.0% ABV 
Brewed with Adaptogen Root Blend
Must be 21+ to order. Must be home at time of delivery and provide government issued ID with proof of age. Currently shipping in California, Montana, New Hampshire, Nevada, North Dakota, Nebraska, Oregon, Ohio, Vermont, Virginia & Washington D.C.
36 CAN BUNDLE PACK
12 PACK MANGO COCONUT LIMITED RELEASE (12 x 16oz)

 
24 VARIETY PACK HIGH ABV FLAVORS (3 x 8 x 12oz)
PINEAPPLE CHILI (8x12oz) + BLACK CHERRY (8x12oz) + GINGER (8x12oz) 
Customer Reviews
Write a Review
Ask a Question
Filter Reviews:
flavor
body
Flying Embers
ginger
Mango Coconut
adaptogen drink
black cherry
hamburger
Pineapple Chili
crackers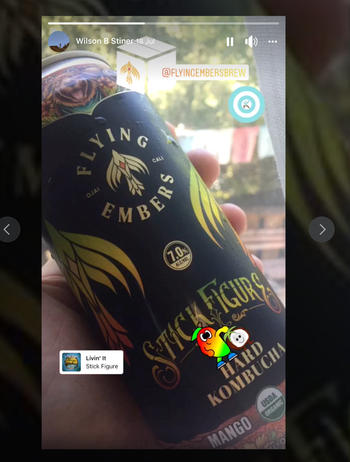 08/13/2020
Best
Love the mango coconut! All the flavors are great and such a clean drinking experience.
Wilson S.
United States
08/13/2020
BEST EVER
I love ALL the new Flavors!!! Best light Buzz EVER
daphne l.
United States
08/13/2020
LOVED THEM ALL!!!!!!
I loved every flavor and the high ABV is an awesome bonus and I'm going to buy more!!!
Miriam F.
United States
08/13/2020
Product
Love all of them! Super stoked especially about the mango coconut. Thank you for making awesome products.
Deanna W.
United States
08/13/2020
Another Slam Dunk
So so good, I'm obsessed with these products
Jessica F.
United States